Best
ERP
for Duty-free Stores, Increase sales, boost efficiency, and cut complexities in your shops, vessels, and restaurants wherever your customers are. Manage complex tax, product allowances, and pricing complying with multiple legislations. Automatically apply appropriate rules based on the traveler's route and nationality.
Best ERP for Duty-free Stores & Travel Retails
For travel retailers – whether you run ferries, a retail store chain in a train station, or a massive duty-free store at an airport, if you do not have the item your customers want at that moment, you have most likely lost your sale forever. LS Retail is designed to tackle such situations with simplified inventory management and AI-driven advanced tools to identify trends and ensure you always have the item customer's demand.  
Time-strapped travelers demand fast services. This is where LS Retail plays its part. You can take payments in any currency and close sales effortlessly. You can even advise your customers without delay using your handhelds. You may also tie them offline and offline and allow them to shop beforehand and pick up their item at your store, at the gate, or wherever they want. 
Pricing, product allowance as per various legislations, and tax complexities are common. This software automatically applied the relevant regulations according to the passenger's nationality and route.
Our Solution is Well-suited for: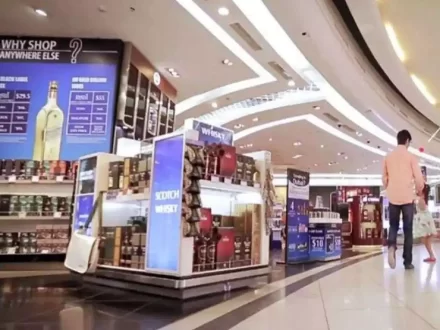 Automated Legislation Compliance
Allow your staff to offer suitable advice and excellent services with the minimum risk of errors. Your system will automatically apply rules using the passport/ boarding pass details.  
Tax refunds, tax-free, discounts, and final prices. 

 

Item limitation and item allowance, for instance, a number of liquor bottles or amount of alcohol. 

 

When STEB (Security Tamper-Evident Bag) needs to be used. 

 

Multi-leg boarding cards for in-transit travelers