Trident Field Serv
Trident Field Serv solution provides advanced activity scheduling, resource optimization and mobile enablement capabilities that enables the field services delivery teams to be able to track, monitor and report the services activities on the go.
Field service tracker provides various perspective to the service requirements, patterns and trends of success or failures through advanced analytics, machine learning and internet of Things capabilities for informed and business decision making and personalized customer experience delivery.
Trident Service tracker mobile application enables organization to optimize the service delivery engagement in terms of
Optimize service team / resource utilization
Track service delivery activities and customer satisfaction
Optimize cost of service delivery operations
Enhanced and personalized customer experience
Business insight into patters of success or failures
Shorter turnaround time for parts replacement and servicing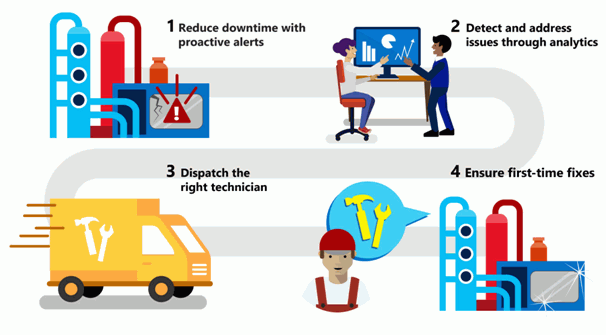 No matter what device is used, organizations can leverage native mobile applications to provide real time and offline data and gain visibility into customer information to improve field processes and increase technician productivity. Mobile workers are provided with a calendar of work order details that can be dynamically updated. Work orders are linked to customer and case history, installed product configurations, parts information, pricing, and more 
Align your SLA's and contracts with your service operations. This feature allows your staff to create and maintain relevant data contained in work orders. Technicians are notified of the services requested, while the app lists all related information like parts needed, items to service, priority and status of the service request. This real-time accurate information helps technicians make quick decisions and execute the job smartly and hassle free. 
Service Engagement Planning
With the automation process, the app makes dispatching of field technicians simple and straightforward. It eases complexities arising from assigning of tasks by gathering all the field service technicians' information based on their geographical location, expertise or preferred customers.
Create engagement plan
View / Manage engagement plan
Plan change request workflow
Resource utilization view
Attendance & Productivity
This is a crucial feature that lets field sales force record the time taken to carry out the desired sales call
Map based location tracker
Sales activity delivery time line by Date, Date range, Employee
Resource availability and expense tracking
Request Leave
Create leave request
View leave request status
Manage expense claims
create claim
View claim status