CRM for Real Estate
Simplifying Customer Centric Experience for Your Real Estate Business. Because Relationships Matter. The solution helps you build a customer centric approach, streamline your property sales, marketing, post sales and service process, which improves your brand image, efficiency and ensures effective collaboration between departments.
The extent of Customer Centric Approach required for a Real Estate Company is immense. Delivering High Quality Customer Experiences Continuously is often a challenge. High Quality Customer Experience is actually providing answers to the customer's problems just before he asks it. Microsoft Dynamics 365 is a CRM solution that provides Ready-to-Use Best Practices to deliver High Quality Customer Experiences for Real Estate Companies. Microsoft Dynamics 365 also provides the technology that helps you deliver these experiences to a large scale of prospects and customers: consistently.
In an intensely competitive real estate market, creating a mind share in the prospect's mind plays an important role in his buying process. Microsoft Dynamics 365 has built-in best practises and a structured approach to create this mind share to your potential prospects.
With Campaign Management Process, Microsoft Dynamics 365 helps you deliver the right marketing message to your potential prospect across multiple mediums : traditional & social. You could track the response and the spend on marketing initiatives to measure the ROI of these campaigns. Microsoft Dynamics 365 also helps in converting positive responses to Leads.
IT helps you create the marketing calendar with the ability to segment, plan, execute & analyze campaign performance – helping determine ROI & effectiveness. It facilitates lead ownership definition and automated proactive communication with prospects/customers/brokers with the help of workflow tool. This eventually helps enhance customer experience & build trust. You get data to plan your future marketing campaigns more effectively. 
In the real estate business, the challenge begins the moment you identify a lead. Qualifying the lead becomes extremely important so that you can channelize your efforts on the right prospects. And once that is done, delivering high quality experiences to the prospect becomes extremely important.
Microsoft Dynamics 365 CRM  provides you with tools that help you to qualify the prospect efficiently. With its structured opportunity management process, you could provide your sales workforce a guide and a system to deliver the right customer experiences to the prospects. Microsoft Dynamics 365 has the intelligence to keep track of the sales process and identify the deviations. This helps you course correct, wherever the customer experiences are not satisfactorily delivered. 
Once the prospect is ready to buy from you, or ready to become your customer, he is trusting your brand and your product. Providing the customer the best buying experience now becomes a responsibility.
Microsoft Dynamics 365 CRM helps you to execute the sales & contract management process with the customer in a structured and easy way. It ensures that the buying process of the customer is hassle free and pleasant. Microsoft Dynamics 365 CRM helps you with the necessary documentation, and integrates with the backend ERP so that the commercial transactions and reporting becomes seamless. It also has built in systems to enable seamless interaction with the banks and the brokers during the contracting process.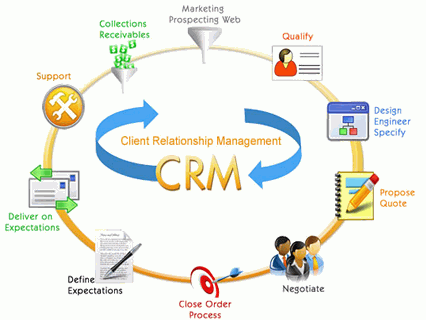 Enhanced Customer Experience