Proactive and Connected Field Service Begins Here
Deliver a seamless, end-to-end service experience with
Dynamics 365
for Field Service. Built-in intelligence helps you resolve service issues before they occur, reduce operational costs, and deliver positive onsite experiences.
Microsoft Dynamics 365 for Field Service
Microsoft Dynamics 365 for Field Service is a complete Field Service management solution that includes service locations, customer assets, preventative maintenance, work order management, resource management, product inventory, scheduling and dispatch, mobility, collaboration, customer billing, and analytics.
It provides advanced activity scheduling, resource optimization and mobile enablement capabilities that enables the field services delivery teams to be able to track, monitor and report the services activities on the go. The solution enables the organizations to be highly agile and responsive to the customer needs, capture their feedbacks and concerns on the spot with constant alerts and status updates.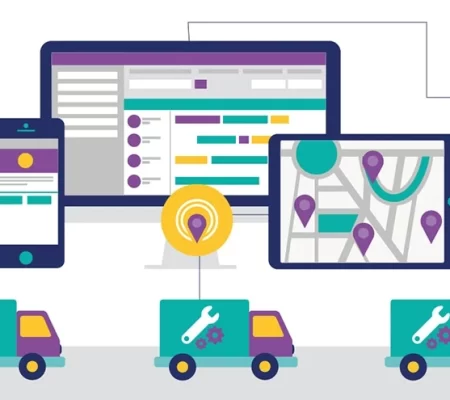 Dynamics 365 for Field Service maintains the accuracy of service contracts, warranties, and installed products across customers, geographies, and locations. When contract data is accurate and available, SLAs are met, customers are satisfied, and all service revenue is accounted for. Enhanced visibility into accurate contract information not only drives faster, more accurate billing, it enables field service teams to identify new sales opportunities to drive additional revenue.
Dynamics 365 for Field Service Contract and SLA Management allows you to:
Manage terms and conditions
Automate escalations
Track asset location, maintenance needs, and repair history
Apply different billing rates for various types of work and materials
Classify assets with barcodes or serial numbers
Track warranties against assets
Provide field staff with visibility into terms and expiration dates
Ensure that service and billing conform to warranty stipulations 
Schedule and Optimize your Dispatching
Field Service provides the ability to manage people and equipment with flexible scheduling options. A drag-and-drop schedule board allows dispatchers to assign resources and setup schedules for multiple work orders using a map or list view, while resource scheduling optimization fully automates scheduling.
Identifies and organizes available resources by categories to balance workloads and resources.
Matches characteristics of technicians against requirements of work.
Understands geography, availability, truck inventory, regulatory requirements, customer preference, and service level agreement.
Easily reallocate resources in response to changes or emergency situations.
Multiple scheduling options from drag and drop to fully automated and optimized
Minimize driving time
Dynamically re-optimize throughout the day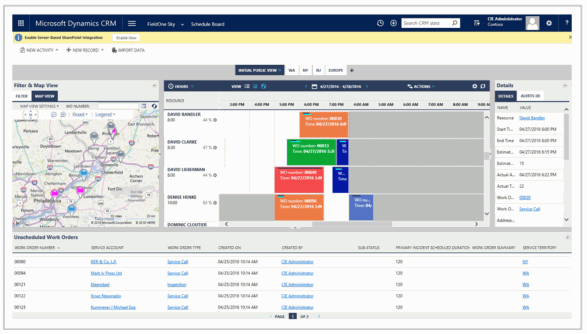 Synchronize inventory, set re-order points and track inventory down to the truck level helping drive efficiency and productivity. Manage your inventory across locations, including warehouses, depots, and trucks. Inventory is always accurate, so you can better track your service stock for fewer write-offs, and create better forecasts.
Improve first-time fix rates with accurate allocation of parts.
Provide mobile access of inventory and parts information to management resources.
Manage inventory information for any part transaction: return material authorizations (RMAs), stock adjustment, or stock transfer.
Track service stock accurately at mobile and fixed locations to reduce write-offs.
Adjust inventory records automatically based on field use or en route purchasing. 
Mobile workers are provided with a calendar of work order details that can be dynamically updated. Work orders are linked to customer and case history, installed product configurations, parts information, pricing, and more.
Access all relevant information like case, customer information and history, equipment, and recommended steps for repair.
Easily update work orders to ensure accurate information.
Maintain consistency of work performed with step-by-step checklists.
Launch and complete satisfaction surveys.
Capture client signatures, generate invoices, and collect payment.
Take and store photographs of work.
Route technicians on the best route with turn-by-turn directions.
Technicians update their status between traveling, working, on break, etc. to ensure visibility for dispatch